[Mixtape] PeeWee Longway - The Blue M&M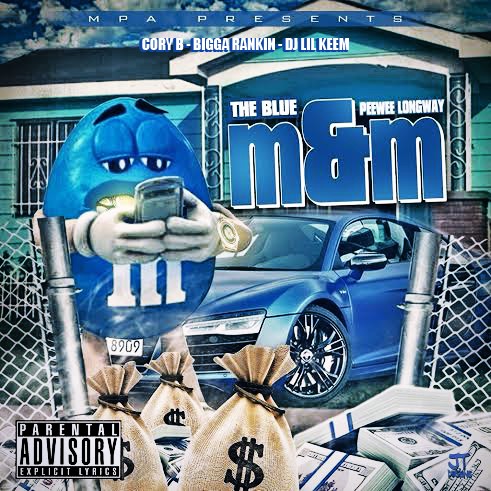 After some delay Peewee Longway finally releases his much anticipated project The Blue M&M. The tape features production from Zaytoven, Metro Boomin, Honorable C-Note and more. The hosting is handled by Cory B, Bigga Rankin and DJ Lil Keem.
Stream and Download after the jump.
Download:
PeeWee Longway - The Blue M&M [Mixtape]
Tracklist:
01. Peewee Longway - Everyday (Switcharoo) [Prod. By Big K]
02. Peewee Longway - Cheetah Print [Prod. By Honorable C-Note]
03. Peewee Longway - Blue Benjamin [Prod. By Beezey]
04. Peewee Longway - That Boy Right There [Prod. By Zaytoven & Cassius Jay]
05. Peewee Longway - How High [Prod. By Honorable C-Note]
06. Peewee Longway - Pretty Penny (Feat. Offset) [Prod. By Mucho]
07. Peewee Longway - Cinco De Mayo (Feat. Hoodrich Pablo Juan) [Prod. By Mucho]
08. Peewee Longway - African Diamonds (Feat. Hoodrich Pablo Juan) [Prod. By Mucho]
09. Peewee Longway - Came In (Feat. Migos) [Prod. By Mucho]
10. Peewee Longway - Sneakin N Geekin [Prod. By Metro Boomin]
11. Peewee Longway - Ola (Feat. Offset) [Prod. By Zaytoven]
12. Peewee Longway - FRFR (Feat. Quavo) [Prod. By Mucho]
13. Peewee Longway - OG Gas [Prod. By Beezey]
14. Peewee Longway - Juice (Feat. Young Thug) [Prod. By Cash Money AP]
15. Peewee Longway - Took Chances (Feat. Jose Guapo) [Prod. By Will-A-Fool]
16. Peewee Longway - Documentary (Feat. Offset) [Prod. By Krazy Blacc]
17. Peewee Longway - Hotel (Feat. Woop) [Prod. By KE On The Track]
18. Peewee Longway - Energy Kit [Prod. By C4 & Honorable C-Note]
19. Peewee Longway - Situation (Feat. Offset) [Prod. By Dun Deal]
20. Peewee Longway - Switcharoo (Feat. Migos) [Prod. By Zaytoven]
21. Peewee Longway - Servin Lean (Remix) (Feat. ASAP Rocky) [Prod. By C-Note] (Bonus)