[Mixtape] OJ Da Juiceman - "6 Ringz" 2 (The Playoffs Edition)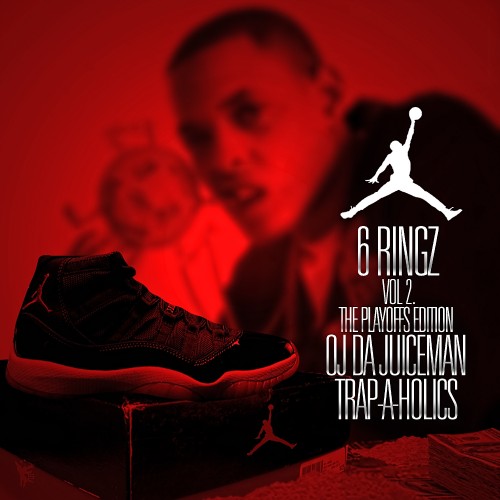 OJ Da Juiceman is back with the second installment of his 6 Ringz mixtape serious. hosting duties are handled by none other than Trap-a-Holics. Features include Young Scooter, Cartel MGM, Gorilla Zoe & more. while Metro Boomin', Lux Luger, 808 Mafia, and more are behind the boards providing production.
Listen and download after the jump.
Download:
OJ Da Juiceman - 6 Ringz 2 (The Playoffs Edition)
Tracklist
:
01. OJ Da Juiceman - Intro
02. OJ Da Juiceman - Run Them Bands Up [Prod. By Lex Luger]
03. OJ Da Juiceman - I Do This [Prod. By Pops on Da Beat]
04. OJ Da Juiceman - Ballin Like A Fool (Feat. Cartel MGM) [Prod. By 808 Mafia]
05. OJ Da Juiceman - Ballin Out The Gym (Feat. Starlito) [Prod. By Lex Luger]
06. OJ Da Juiceman - Be The Man [Prod. By MPC Cartel]
07. OJ Da Juiceman - Pimp C
08. OJ Da Juiceman - Ziplock (Feat. Gorilla Zoe) [Prod. By Metro Boomin]
09. OJ Da Juiceman - Plug Prices (Feat. Young Scooter) [Prod. By Beat Junkies]
10. OJ Da Juiceman - No Hook [Prod. By MPC Cartel]
11. OJ Da Juiceman - Outro