[Classic Mixtape] Waka Flocka Flame - Salute Me Or Shoot Me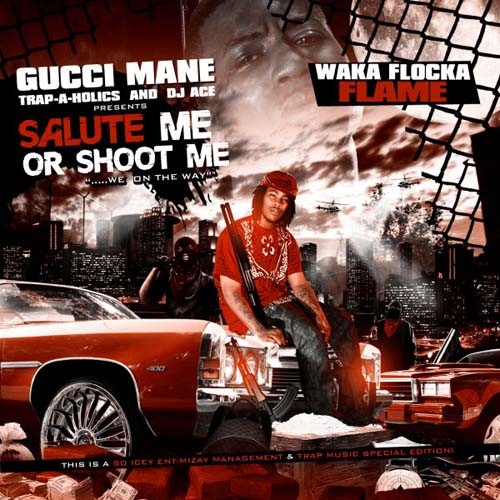 So, I'm sitting around bumping this classic mixtape that set it all for Waka, thinking there's probably people who claim to be Waka's "Biggest Fan" and never heard this mixtape. So for the first post in our "Classic Mixtape Collection" were starting with Salute Me Or Shoot Me: We On The Way (Hosted By Trap-A-Holics & DJ Ace). go ahead hit the jump and soak up that Down South Gutta Trap Muzik.
Listen and download after the jump.
Download:
Waka Flocka Flame - Salute Me Or Shoot Me: We On The Way [Mixtape]
Tracklist:
01. Waka Flocka Flame - Salute Me Or Shoot Me Intro (1:04)
02. Waka Flocka Flame - We On The Way [Produced By Tay Beatz] (2:32)
03. Waka Flocka Flame - Southside [Produced By Tay Beatz] (4:35)
04. Waka Flocka Flame - Waka Flocka Flame [Produced By Tay Beatz] (4:16)
05. Waka Flocka Flame - O Lets Do It [Produced By Don Beatz] (3:54)
06. Waka Flocka Flame - Iced Out [Produced By Tay Beatz] (3:56)
07. Waka Flocka Flame - Su Woo [Produced By Southside Beatz] (3:51)
08. Waka Flocka Flame - Check In [Produced By Tay Beatz] (1:11)
09. Waka Flocka Flame - No Jumper (3:15)
10. Waka Flocka Flame - U Just Like My Swagg [Produced By Southside Beats] (2:52)
11. Waka Flocka Flame Feat. Frenchie - I Work [Produced By Showtime] (3:49)
12. Waka Flocka Flame Feat. Wooh Da Kid - Rock Hop [Produced By Southside Beatz] (4:13)
13. Waka Flocka Flame Feat. Wooh Da Kid - Lick A Shot [Produced By Dell Beatz] (3:58)
14. Waka Flocka Flame - Down Ass Girl [Produced By Don Beatz] (2:31)
15. Waka Flocka Flame - Out The Bag Waka Skit [Produced By Tay Beatz] (0:56)
16. Waka Flocka Flame - Stupid [Produced By Cheese] (3:39)
17. Waka Flocka Flame - Dreads N Gold [Produced By Don Beatz] (3:09)
18. Waka Flocka Flame - So Icey Boys [Produced By Mike The Rockman] (1:48)
19. Waka Flocka Flame - We On The Way [Produced By Southside Beatz] (3:36)
20. Waka Flocka Flame - I'm Not A Rapper [Produced By Tay Beatz] (0:16)
21. Waka Flocka Flame Feat. Wooh Da Kid - U A Lame [Produced By Nesia] (2:51)
22. Waka Flocka Flame - Grinch [Produced By Mike The Rockman] (2:34)
23. Waka Flocka Flame - Outro (0:58)
For Classic Gucci Mane Mixtapes visit
GucciManeClassics.com