[Tracklist] Gucci Mane – "Trap God"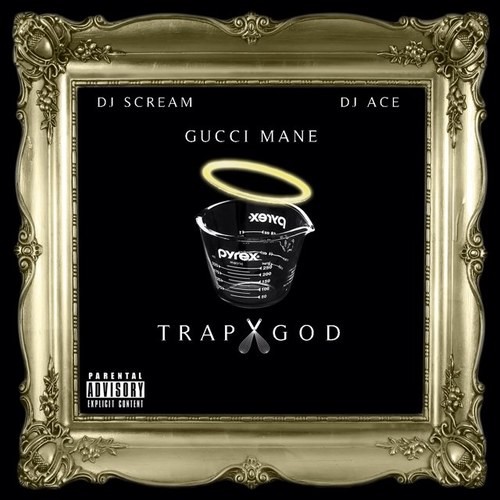 Gucci finally reveals the official tracklisting for his forthcoming mixtape Trap God which will drop on the Trap Holiday October 17th (10/17). With plenty of tracks and features from heavy weights in the game such as Meek Mill, Rick Ross, Trae Tha Truth, T-Pain, Future, Kevin McCall and more. On the production side Gucci brings on Zaytoven, Lex Luger, Mike Will and many more.
See the tracklist after the jump.
1. Intro (Prod. by Lex Luger)
2. Head Shots feat Rick Ross (Prod. by Tarentino, 808mafia)
3. Money Habits feat Young Scooter (Prod. by 808mafia)
4. Crazy feat Waka Flocka Flame (Prod. by Drumma Boy)
5. Get Money Nigga feat Meek Mill (Prod. by 808 mafia)
6. Rolly Up feat Young Scooter & Waka Flocka Flame (Prod. by Mike Will Made It)
7. Fuck The World feat Future (Prod. by Mike Will Made It)
8. Act Up feat T-Pain. (Prod. by T-Pain)
9. Never See feat Verse Simmonds (Prod. by Shawty Redd)
10. That's That feat Kevin McCall (Prod. by Kevin McCall)
11. Servin (Prod. by 808 Mafia)
12. Shooter feat Young Scooter & Yung Fresh (Prod. by Zaytoven)
13. Dead Man feat Young Scooter & Trae The Truth (Prod. by Metro Beats)
14. Baby Wipes feat Waka Flocka Flame (Prod. by Zaytoven)
15. Don't Trust feat Young Scooter
16. Suckaz (Prod. by Shawty Redd)
17. Gas and Mud (Prod. by C4)
18. Fuck Something feat Kirko Bangz, Waka Flocka Flame & Young Scooter (Prod. by 808Mafia)
19. I Fuck With That (Prod. by Mike Will Made It, Southside, CNote)
20. Get Lost feat Birdman (Prod. by Detail)