[Mixtape] Trap-A-Holics, DJ Ace & So Icey Ent Presents: Waka Flocka Flame - "Salute Me Or Shoot Me"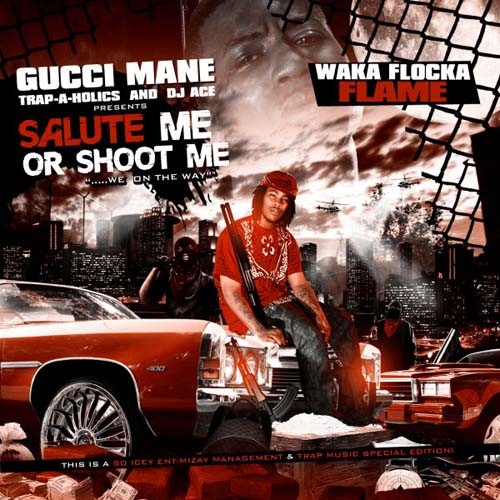 Your Favorite Trappers Team Up With The South's Top Dawg DJ Ace And The Big Boss Man Himself Gucci Mane Laflare To Bring You The 2nd In Command Of The So Icey Navy, Waka Flocka Flame With His First Mixtape, "Salute Me Or Shoot Me (We On The Way)" This A Certified Street Banger And Is Only The Tip Of The Ice Berg For Trap-A-Holics & So Icey Ent. For The '09.
Listen and download after the jump.
Tracklist
:
01. Waka Flocka Flame - Salute Me Or Shoot Me Intro (1:04)
02. Waka Flocka Flame - We On The Way [Produced By Tay Beatz] (2:32)
03. Waka Flocka Flame - Southside [Produced By Tay Beatz] (4:35)
04. Waka Flocka Flame - Waka Flocka Flame [Produced By Tay Beatz] (4:16)
05. Waka Flocka Flame - O Lets Do It [Produced By Don Beatz] (3:54)
06. Waka Flocka Flame - Iced Out [Produced By Tay Beatz] (3:56)
07. Waka Flocka Flame - Su Woo [Produced By Southside Beatz] (3:51)
08. Waka Flocka Flame - Check In [Produced By Tay Beatz] (1:11)
09. Waka Flocka Flame - No Jumper (3:15)
10. Waka Flocka Flame - U Just Like My Swagg [Produced By Southside Beats] (2:52)
11. Waka Flocka Flame (Feat. Frenchie) - I Work [Produced By Showtime] (3:49)
12. Waka Flocka Flame (Feat. Wooh Da Kid) - Rock Hop [Produced By Southside Beatz] (4:13)
13. Waka Flocka Flame (Feat. Wooh Da Kid) - Lick A Shot [Produced By Dell Beatz] (3:58)
14. Waka Flocka Flame - Down Ass Girl [Produced By Don Beatz] (2:31)
15. Waka Flocka Flame - Out The Bag Waka Skit [Produced By Tay Beatz] (0:56)
16. Waka Flocka Flame - Stupid [Produced By Cheese] (3:39)
17. Waka Flocka Flame - Dreads N Gold [Produced By Don Beatz] (3:09)
18. Waka Flocka Flame - So Icey Boys [Produced By Mike The Rockman] (1:48)
19. Waka Flocka Flame - We On The Way [Produced By Southside Beatz] (3:36)
20. Waka Flocka Flame - I'm Not A Rapper [Produced By Tay Beatz] (0:16)
21. Waka Flocka Flame (Feat. Wooh Da Kid) - U A Lame [Produced By Nesia] (2:51)
22. Waka Flocka Flame - Grinch [Produced By Mike The Rockman] (2:34)
23. Waka Flocka Flame - Outro (0:58)